At the grocery store yesterday I found jars of Kroger peanut butter stacked nearly waist-high on display at the end of an aisle. Curious, I circled the display, thinking I might find a sign saying "Does not contain Salmonella" or something to that effect. There was no such ad.
Why aren't the makers of safe peanut butter bragging about it?
K-LOVE is always in the background when I do my writing.
While one of the K-LOVE news anchors was updating listeners on the Peanut Corp. salmonella outbreak, the DJ mentioned he put off buying a jar of peanut butter at the grocery store the night before. He felt it wiser to wait.
Peanut Corp., the FDA, and several snack manufacturers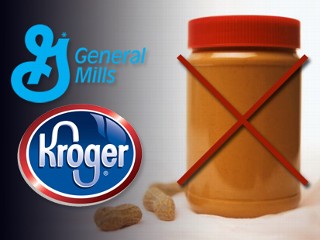 —including General Mills and Kroger—have warned against eating products made with peanut butter and/or peanut paste produced by Peanut Corp.
FDA may not be entirely sure what products those are, but has said many times,
"We don't have concern about the national, name-brand peanut butter that's sold in jars at supermarkets and retail outlets."

Consumers are wary anyway.
Part of the problem could be the misleading images (such as the graphic above by ABC News) put forth by the media.
It could just be that recalls are scary.
After the Maple Leaf listeria outbreak, Canadians cut back on deli meats of all brands and even stopped buying hot dogs. People defensively avoided anything recognized to support the growth of listeria.
People value safe food.
If given a compelling story of how companies and industries identify and control risks, they might make different buying decisions.